Compatible with P3dO 2.2 and above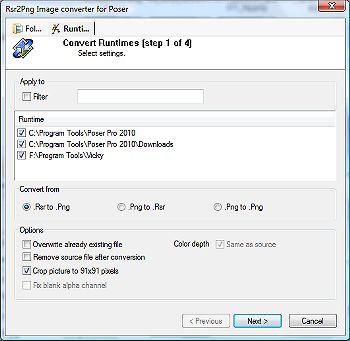 Overview
Rsr2Png is a Poser pictures mass renaming plugin.
Rsr2Png converts Poser .RSR files to Poser Pro Pack .PNG file format. Rsr2Png can also convert from .PNG to .RSR.
Rsr2Png will not alter the picture alpha channel.
Rsr2Png converts file from P3dO's current file list.
Rsr2Png is only a picture converter. No Poser library file (.CR2, .PP2, .PZ2,...) will be modified during conversion, just Poser thumbnails.
The Rsr2Png plugin entry appears in P3dO Explorer's Tool menu.
Rsr2Png offers 2 ways to convert pictures called
Directory
and
(pro)
Runtimes
mode.
By clicking on the Rsr2Png menu last selected mode dialog appears (the above screenshot is Directory mode dialog).
You may switch from one mode to another by clicking the upper tab button "Folder" and "Runtimes", respectively.
note
Runtimes mode is only available on P3dO pro.
Directory mode
This mode will use P3dO's current directory as a start point for conversion.
(pro)
Converting pictures in subdirectories
Rsr2Png converts files that are displayed by P3dO. Thus when you click on "Explore Subfolders" in P3dO, P3dO will display the whole files within that directory structure. Then call Rsr2Png to make any conversion you wish. This is the way Rsr2Png is able to work on subfolders.
note
the term directory covers the most frequent usage but is not exact. Rsr2Png gets current P3dO's current data set, being a directory, subdirectories, search result or Repository content.
This rule also applies to other plugins working on P3dO content (PatternRenamer, CopyPath, Image2Image).
Runtimes mode
This mode will scan Poser and Daz Studio runtimes.
A selectable list of available runtimes is displayed, the plugin will then scan each selected runtime library.
Selection
Both modes offer the same selection:

Selected files | All files
Status of files which the plugin should ask from P3dO's current file list.

Filter
A user defined filter to apply the conversion to a limited number of matching files.
Any file whose name match the entered text will be processed. Filter can also be a Regular Expression pattern (Read more about Regular Expressions in P3dO's help file "Tips and Tricks" section).
The filter purpose is not to distinguish among RSR and PNG. Although you may of course do so, you don't have to specify the file extensions in the filter, Rsr2Png only scan the requested file type.

.Rsr to .Png
Convert from Poser image file format to Portable Network Graphics.

.Png to .Rsr

.Png to .Png
This conversion is primarily intended to be used to change image transparency or "Fix blank alpha channel" options (read below).

Overwrite already existing file
If unchecked the converter does only create newer files without modifying any existing file, otherwise existing files are replaced too.

Remove source file after conversion
Delete the original picture file from disk after conversion. Deletion only occurs if conversion is succesfull.

Crop picture to 91x91 pixels
(pro)
The Poser 4 picture standard dimension is 91x91 pixels, Rsr2Png automatically crops pictures to 91x91 dimension.
Uncheck that option for custom designed RSR. Width will still be cropped to 91 pixels (is it a Poser limit or Rsr2Png bug but larger RSRs are messy), height can range from 91 to 256 pixels (cropped beyond that size).
It is highly recommended to leave the option checked if you are not a Poser expert
.

Fix blank alpha channel
Workaround for Poser and Poser Pro Pack transparency problems. Rsr2Png will invert alpha channels for all selected files, except for opaque .PNGs. This option is only available for .Png to .Png conversion.
Due to the nature of conversion you should only select PNG whose alpha channel has to be inverted. Or you will end up with a set of blank PNGs. In that case run the conversion again on same set, this will restore pictures to their previous state.

Color depth
(pro)
Ability to set final picture color depth.
Setting picture to Opaque fix transparency problem in Poser but will erase alpha channel, if any. PNG opaque pictures are set to 24 bits and RSR to 32 bits with an opaque alpha channel.
"Same as source" will preserve picture integrity, this is default setting.
Color depth is not available in Runtimes mode, pictures are always converted with Same color depth.
Changing Color depth may be used while converting from Png to Png. In that situation only pictures whose Color depth is due to be changed will be converted, others will not be modified.