How to be informed on P3DO updates
We offer 3 ways to be informed for updates:
Newsletter
,
Twitter
and
P3DO updates notification
module.
Read below to select which is more appropriate for you.
Since we update often it is recommended to use at least one of these services.
Newsletter
Latest Newsletter
JAN 2022 - P3DO Organizer 2.9 R3 Newsletter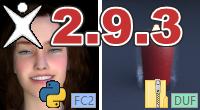 ZipInstaller for Daz Studio * PoserPython * Geezer
here
other Newsletters
When ? What ?
We publish a letter each time a new version of P3DO is available. That is about 2/3 times a year.
The e-mail you provide here, will only used by Senosoft and only for the purpose of that Newsletter.
Troubleshooting:
In case of problems getting the newsletter make sure to allow the following e-mail address in your inbox mail client:
noreply_at_senosoft_dot_com
Suscribe/Unsuscribe to the Newsletter
In order to
suscribe
to the P3DO Newsletter fill the "(enter e-mail address)" field with your e-mail and then click submit.
In order to
unsuscribe
, do the same as above but select "Remove" before submitting your request.
News on Twitter
We also publish
news on Twitter
.
Twitter news are published for every upload inluding beta, bug fixes, and also ongoing work information.
This is some kind of tiny blog for P3DO work in progress.
If you want to be informed on next P3DO schedules, this is the place.
P3DO updates notification
Activate P3DO updates notification module to be informed when a new version is uploaded.
We highly recommend using this user friendly service.
P3DO updates notification settings are available in Options dialog, Updates tab.
Online Newsletters
JAN, 2022

ZipInstaller for Daz Studio

PoserPython

Geezer

MAY, 2021

Partial poses

Python scripting

MAR, 2021

Quick Search

Search history

Daz Studio Navigation

APR, 2020

Daz Studio navigation

Favorites navigation

Improved search tool

Poser lights

DEC, 2019

DAZ DUF asset list

Poser 11.2 fix

WEBP image format

RAR plugin update

SEP, 2018

DUF Poses viewing

Partial Face

Luxology MODO 3D viewing

SEP, 2016

DUF Poses viewing

Partial Face

Luxology MODO 3D viewing

MAY, 2012

Open Partial Pose

Posing from ZIP

External Runtimes

NOV, 2010

ZipInstaller

Find dialog

Poser navigation history

APR, 2010

10th anniversary

Multi-Runtime Search

Carrara thumbnails editor

OCT, 2009

Daz Carrara

Daz Hexagon

Rsr2Png auto

MAY, 2009

Find dialog

Repository

PoserPython

Awk Directory manager

DEC, 2008

P3DO Explorer 2.1 Newsletter

OCT, 2008

Thumbnails Cache

Poser cloths recognition

Gif animation




OCT, 2007

Poser Poses animation